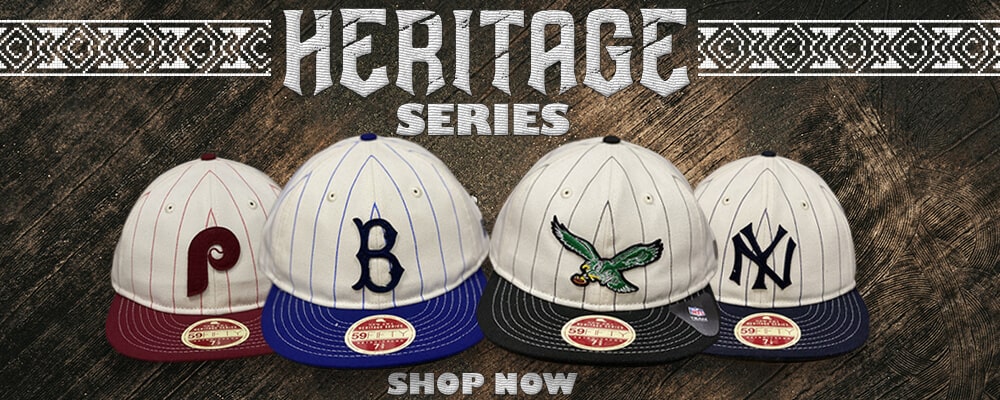 Heritage Series | MLB Heritage Series | NFL Heritage Series
No products found
The Cap Swag team is super excited to bring you the New Era Heritage Series of historical Cooperstown Collection fitted and strapback hats. These old school flat brim baseball team hats are overflowing with historical details for the real vintage baseball fan to appreciate, and everyone else to admire.
Look for team logos stitched on in firm felt instead of modern embroidery; authentic green bottom brims that are soft, not hard, because they are made of stitched felt like the vintage baseball hats were; and wool blend unstructured crowns with the classic team color pinstripes we expect from heritage baseball hats. The back of the adjustable strapback hats also include a super soft, real leather strap and metal buckle to complement the vintage look.
The Heritage Series Cooperstown Collection includes the usual suspects, like the New York Yankees and the Philadelphia Phillies, but we've thrown in a couple curve balls with the Brooklyn Dodgers and the Philadelphia Eagles. The Brooklyn Dodgers Heritage Series hat is embellished with the 1949-1957 team logo and colors, in this case a rich blue on the brim to complement the cream colored crown. The Philadelphia Eagles fitted hat has a kelly green retro Eagle logo embroidered on the front felt patch, and a classic black brim.
The Heritage Series installment of the Cooperstown Collection complements other historic baseball and sports hat collections, such as those included in our
Vintage MLB Throwback Cooperstown Collection Fitted Caps collection
.