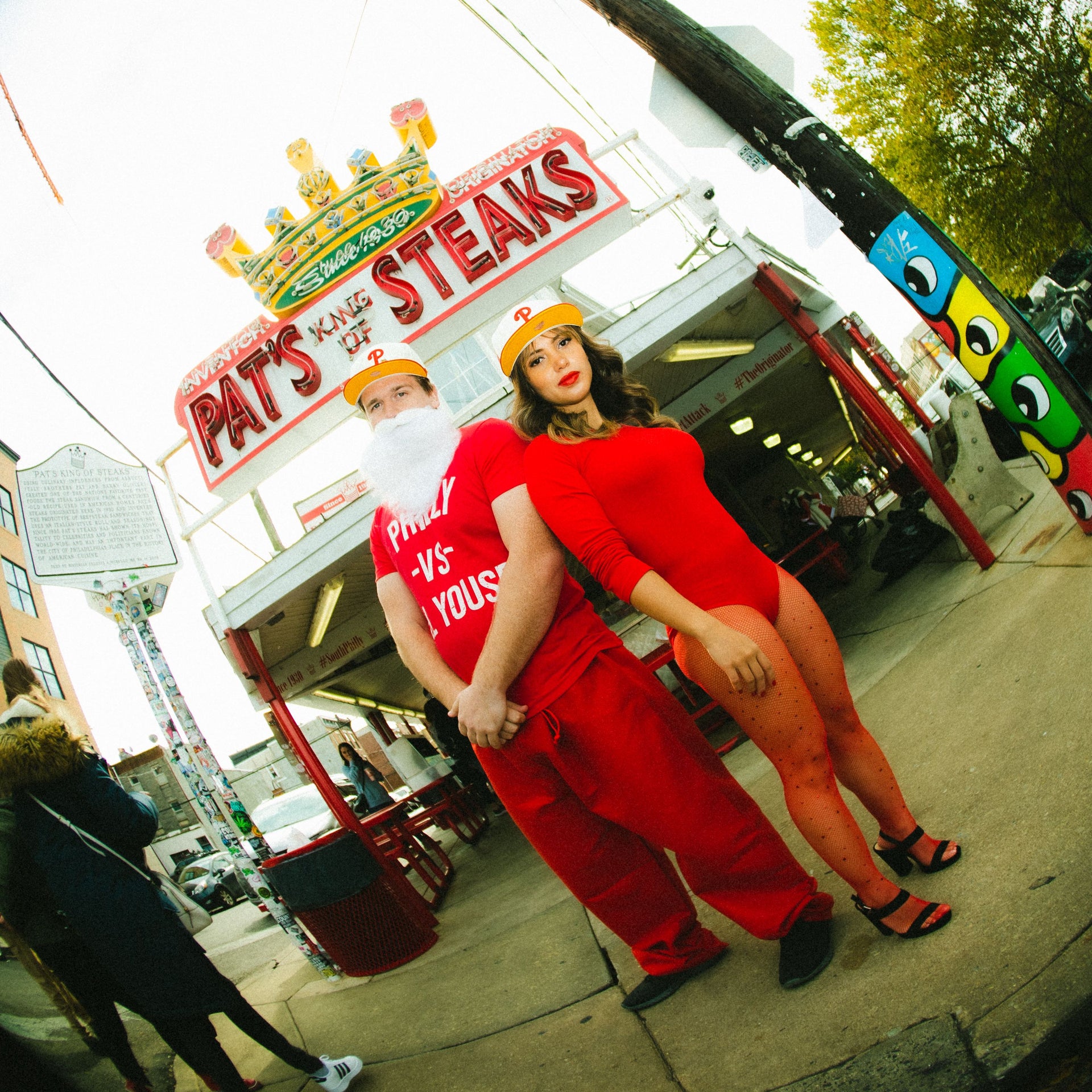 CAPSWAG X NEW ERA "CHEESESTEAK" 59FIFTY FITTED CAP PACK
Cheesesteak Pack
If you are looking for the best 59FIFTY fitted cap, you are at the right place. Our newest 59FIFTY fitted cap collection, Cheesesteak Pack, will offer you caps to add to your collection.
The Cheesesteak Pack is a result of a collaboration between Cap Swag and New Era. The 59FIFTY fitted caps include yellow on the side patches and the under brim to symbolize cheese, as well as colors associated with the traditional cheesesteak on the brim, under visor, crown, and front imprinted logos.
 Each cap in this group spells out PATS, the name of a well-known cheesesteak location. The Cheesesteak pack 59Fifty fitted caps are a fresh bespoke 59FIFTY that you should include in your collection. They are a distinctive take on an original concept.
List of Teams
The Cheesesteak Pack includes a lot of teams. Some of these teams include the following:
Philadelphia Athletics

Philadelphia Phillies

Seattle Mariners

Texas Rangers
These teams are represented by their current logo, or Cooperstown logo, and historical patch.
What Side Patches Are Included in Cheesesteak Pack?
The Cheesesteak pack 59Fifty fitted cap collection includes the following side patches:
1952 All-Star Game Side Patch

1995 All-Star Side Patch

1929 World Series Side Patch

30th Season Anniversary Side Patch
Are There Caps That Are Not Fitted?
While the Cheesesteak Pack emphasizes custom-fitted caps, we also offer a 9Fifty Snapback Phillies Cheesesteak Cap in the same hue but with a somewhat different design.
Who is New Era?
New Era is a New York-based headwear company that was founded in 1920. Their first cap debuted as an official headwear for all MLB players. Since then, the company's caps have become official headwear for most major sports leagues, including Liga MX, MLB, NBA, and numerous other top professional sports leagues worldwide. They have also transcended sports to become leaders in street fashion and Hip Hop culture.
Although New Era is best known for its world series side patch caps, it remains a leader in almost all headgear categories due to its design and aesthetic innovations.
Why Collaborate With New Era?
As longtime supporters of the headwear industry, we at Cap Swag wanted to develop a premium personalized product that people would be excited about. Having been an authorized retailer of New Era Products for many years, we were confident that this was the best company to help us achieve our goal.
Any Other Future Collaborations with New Era?
Cap Swag intends to continue its collaboration with New Era.
Why Trust Cap Swag?
Since our humble start, we've made it our objective to be a value-driven, consumer-focused company. Our goal is to provide our loyal customers with suitable and reasonably priced sports-licensed headgear and apparel.
To give our customers a wearable product that will grow their businesses and/or effectively tell their brand story, we prioritize quality and aggressively pursue new technologies and advances in the custom garment industry.
Our in-house graphic designers translate your ideas into visual representations that genuinely reflect your passion for your business or industry. Recently, we have introduced several in-house brands in areas such as beach-town resort wear, urban streetwear, vintage Americana, and more. We count it a blessing to be able to offer the goods and services we can.
Fitted Matching Pins
This Pat Steaks Collection includes 5 different custom pins that match perfectly with your fitted. These pins include a Whiz Wit Pin, a Whiz Witout Pin, a Cheese Fries Pin, and more. These Pins are designed specifically for these 59 Fifty Cheesesteak Fitteds to bring them to the next level.
The Shoot
The shoot for the Cheesesteak Pack was shot right in the heart of Philadelphia. The three shoot locations were Pat Steak's, City Hall, and the classic Art Museum Steps. All three of the places being icons of the city made it perfect for our custom fitted shoot. These pictures capture what it means to live in the city of Philadelphia and the passion the people have for their city.
Get Your Cheesesteak Pack 59FIFTY Fitted Cap Today!
You can order a cap from the Cheesesteak collection via our
website
or by calling our customer service at (609) 766-0953. We will be delighted to have you as a client!