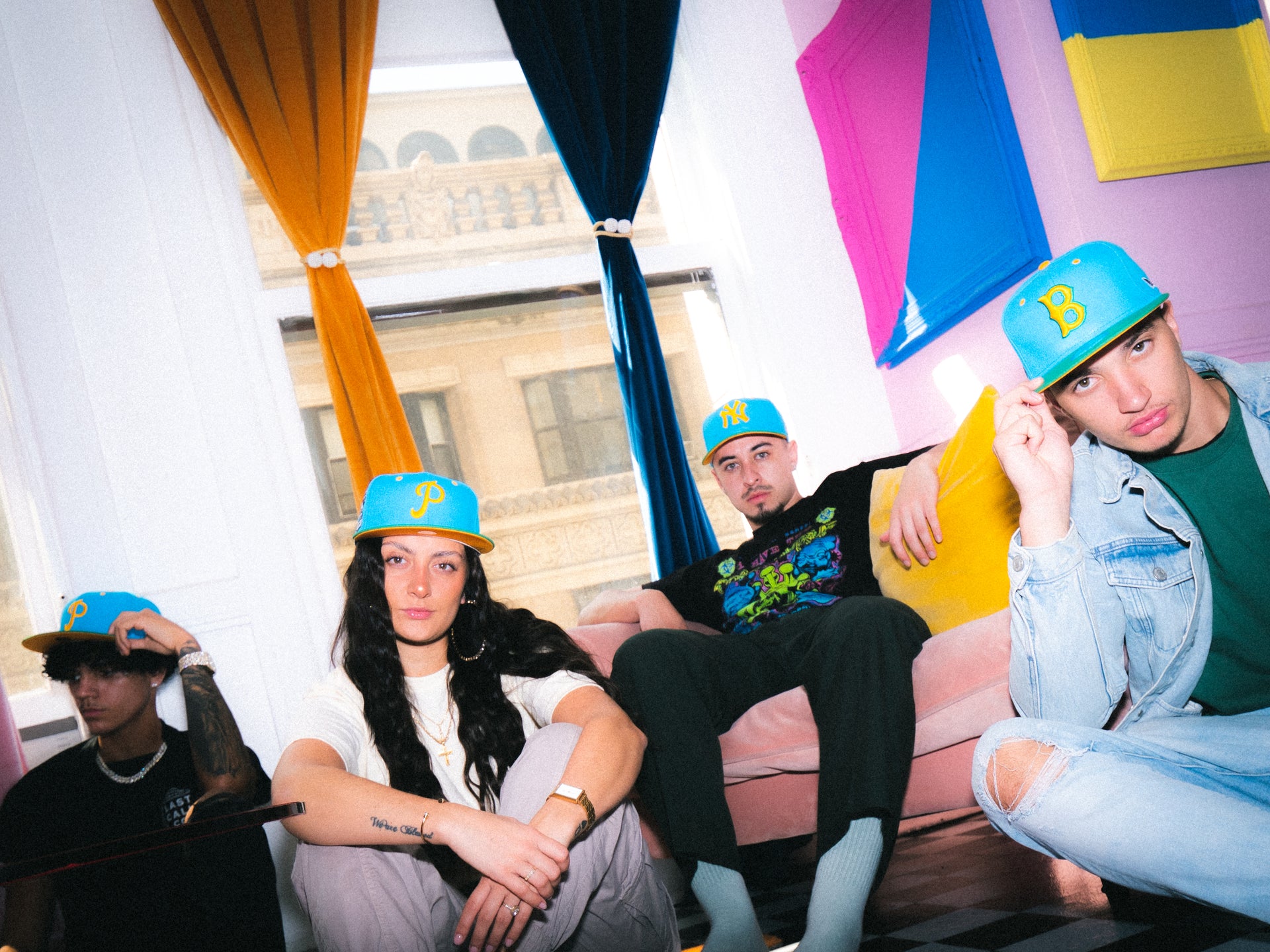 Cap Swag x New Era "Ice Cream" 59Fifty Fitted Cap Pack
Are you seeking the best-licensed sports headwear? Then you should test our new product. The Ice Cream Pack cap is a result of our collaboration with New Era Cap. We designed it, and New Era manufactured it. Even though it is new to the market, we can guarantee the highest quality and value for your money.
Who is Cap Swag?
Cap Swag has developed from zero brand deals and a $2,000 investment in an outdoor flea market to one of the biggest North Eastern United States privately-owned sports-licensed headwear businesses. Since our humble beginnings, we've made it our mission to be as value-driven and customer-focused as possible. Our purpose is to deliver appropriate and inexpensive sports-licensed headgear and apparel to our devoted consumers.
What began as a simple brick-and-mortar retail operation has expanded to include a division of experts in customized apparel creation methods such as screen printing, embroidery, sign vinyl decals, apparel vinyl, and much more. We take pleasure in putting quality first and chasing new technologies and developments in the custom apparel area fearlessly to deliver our customers an item they can wear that will boost their businesses and/or appropriately communicate their brand story.
Our in-house graphic designers turn your thoughts into tangible designs that accurately show your enthusiasm for your company or sector. Cap Swag has recently launched several in-house brands in areas including urban streetwear,  Vintage Americana, Beach-town Resortwear, and more. We consider ourselves fortunate to be able to provide the products and services we do.
Who is New Era?
The New Era Cap Company is a headwear company based in Buffalo, New York. It was founded in 1920. Their headwear debuted as official headwear on the fields used by  MLB players. Since then, New Era headwear has become official for all major sports leagues, including the NFL, NHL, NBA, MLB, Liga MX, and many more professional leagues worldwide. They've also gone beyond sports to become icons of Hip Hop culture and streetwear.
While best recognized for its world series side patch 59FIFTY fitted caps, New Era remains a leader in practically all headwear types by being a design and aesthetic innovator.
Why We Decided to Collaborate with New Era
We've always been big fans of the headwear community, so we wanted to create an elevated custom product that people could get excited about. Having sold New Era products as an authorized retailer for over ten years, we were confident that they were the finest firm to assist us in achieving our goal.
Product Description
Our product is manufactured in Bangladesh with 100% polyester. Each cap features a blue upper crown, a green brim, a yellow undervisor, and black and white side embroidery. It also has a flat Batterman logo and a white sweatband.
Inspiration Behind the Product?
The inspiration behind the product is Ice Cream. The release features whimsical colors to connect to the childhood innocence and nostalgia everybody has about their favorite ice cream flavor while also incorporating elements of the traditional dairy farm, where all ice cream originates from. The sky blue crown represents the sky, the green brim symbolizes the grass, while the yellow under visor and accents highlight the sun. The black and white embroidery on the sides of the cap is inspired by the black and white patterns of the dairy cow.
Team List
Boston Red Sox 1946 All-Star Game Patch
New York Yankees 1952 World Series Patch
Philadelphia Phillies 1952 All Astar Game Patch
Toronto Blue Jays 30th Season Patch
Is it a Limited Edition?
This is an exclusive limited edition release that was designed by Cap Swag and Manufactured by New Era.
Any Future Collaborations with New Era?
We have many collaborations planned in the future with New Era, but everything is Top Secret.
Does the Collab Extend to Clothing as Well?
This collab also features match-up t-shirts inspired by the hats as well as matching fitted cap pins.
Other Products Manufactured by New Era
The 59FIFTY Fitted Hat
The 59FIFTY fitted cap by New Era is the origin of all fitted basketball caps. It is the signature style and streets and sports icon of the New Era. Athletes globally, including those in the NHL, MLB, NBA, and NFL, wear it on the field of play.
This New Era hat is so popular that the gold size tag has become iconic in and of itself. Hands down, this is the world's best-fitted headwear. In terms of fit and quality, no one matches the New Era's 59FIFTY fitted cap.
The cap has a structured elevated crown and fits the finest if your head is squared-off rather than oval or you prefer a high crown style. All 59FIFTY fitted hats have a flat visor.
Because this is a fitted cap, you must be aware of your size to ensure a correct fit. Fitted caps are similar to shoes. If you select a size smaller, the fit will be unpleasant.
The 59FIFTY Low Profile Fitted Hat
Like the 59FIFTY fitted, but the elevated crown isn't entirely appropriate for the shape of your head? Fortunately, New Era has recently released the 59FIFTY Low Profile fitted cap.
This low-profile cap has similar characteristics to the original 59FIFTY. The cap features a small curve in the visor and a sloping crown. This results in a more snug fit for most individuals, mainly those with oval heads or heads slanting on their foreheads.
Please keep in mind that if you're used to donning the original 59FIFTY fitted caps, you should order one size down because the Low Profile caps fit slightly larger than the original 59FIFTYs. 
New Era 9FIFTY Snapback Hat
This New Era cap is a throwback-style hat inspired by the classic snapbacks of the 1980s. It has a  back opening that is tapered and a visor that is squared off for a real throwback snapback style. The flat brim and structured crown of the 9FIFTY are the same as those of the 59FIFTY, but the 9FIFTY features an adjustable open back.
Typically, the adjustable backing is a throwback plastic snapback strap. However, the back strap on a 9FIFTY can be practically anything. The 9FIFTY is available in three different sizes: small/medium, one size fits most, and medium/large. However, the most common size in most shops is the One Size Fits Most. The other sizes are rare to come across.
Since this cap fits numerous head sizes, it is an excellent gift. It's also ideal for a child that is growing. You won't have to change your best cap yearly because you can adjust the fit by loosening the snap at the back.
This cap is not recommended for large head sizes since it can appear not proportional and overly tiny on large heads. You are at the borderline of having an excellent fit in this cap if your head size is 7 5/8. The snapback will seem too tiny on your head if your size is 7 3/4 or larger. The 9FIFTY is a simple and adaptable hat for everybody else.
Get Ice Cream Pack Today
To buy your Ice Cream Pack cap, you can order it online from our website or by contacting our customer care via (609) 766-0953. We will be happy to have you as our customer!