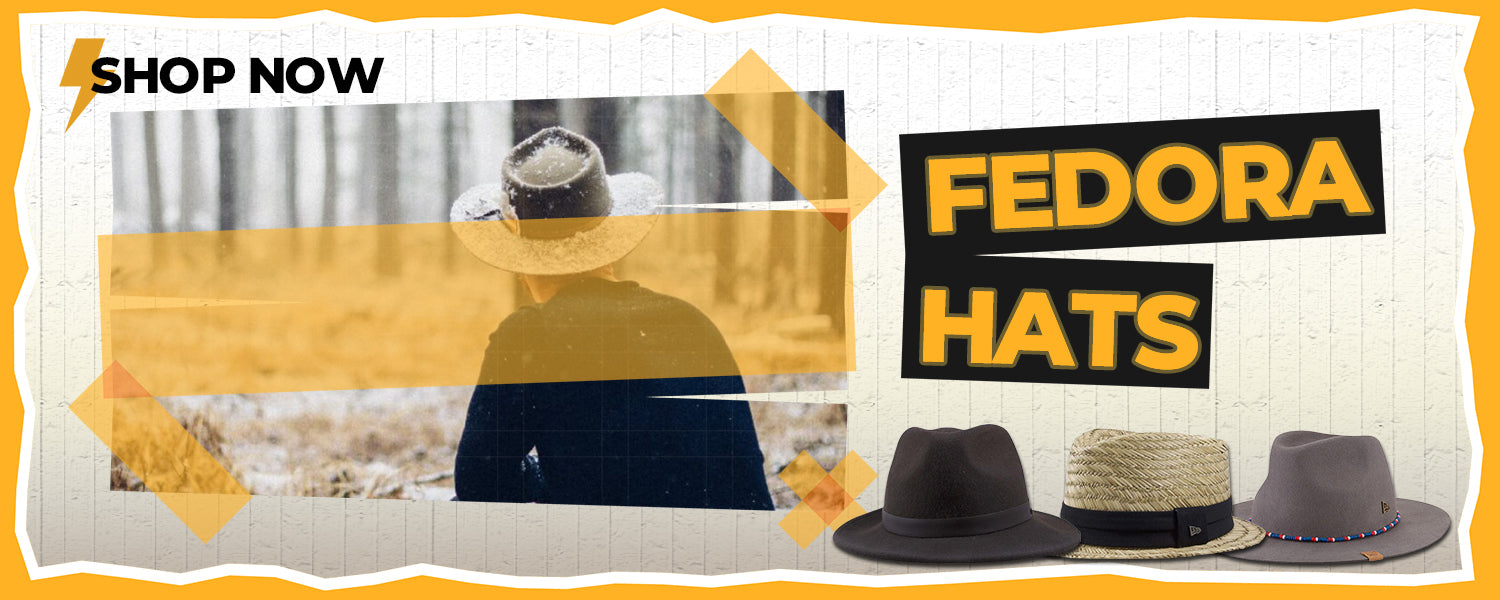 Classic Fedora Hats | Woven Straw Fedora Hats | Formal Vintage Trilby Hats
Shop the selection of fedora hats to up your hat game to a new level!
 Make your outfit stand out with one of the premium fedoras or straw fedoras that we have available on our online store. Look like old blue eyes himself with one of the classic fedoras that we offer in this section. Whether you need a formal fedora to match your suit or a light comfortable fedora for the spring and summer seasons, we got you covered. Find fedoras for men and fedoras for women and have yourself looking stylish in no time with the fedora hat section.
What Materials are Classic Fedora Hats made from?
Fedora Hats are made from a wide selection of materials. There are Straw Woven Fedora hats which are made from 100% Straw excluding the accessories which are light and breathable and perfect for any beach or hot humid weather. We also supply fedora hats made with 100% Australian wool and 100% Australian Wool Vintage Fedora Hats are perfect for any classy style or trying to replicate the classic 1920 style. Those are two of the materials that our classic fedora hats are made from, but fedora hats can be made from many different types of materials. If you want to learn more about our premium fedora hats then start shopping and you'll find a hat for you.
Are Fedora Hats in style?
Fedora Hats are one hundred percent in style. You can add our Woven Straw Fedora Hats to any beach or hiking outfits and our straw fedora hats will elevate your outfit to a new level. Our Formal Fedora Hats are made to mimic that old-school 1920s look with that classic feel and will make any formal outfit look even classier. Though that doesn't mean you can't wear our Formal Fedora Hats with some modern casual wear and make a perfect outfit. Though the classic vintage fedora hats fell out of fashion in the 1960s for a more modern look they have come back in style and no one can deny the appeal of a Formal Vintage Fedora Hat.
What Types of Fedora Hats are There?
There are tons of different styles of Fedora Hats. There are wide brim fedora hats and the width of the brim is wider than the regular brim of fedora hats. There are the types of creases on fedora hat crowns, the most popular types of fedora hat creases would be the center dent crown which is the classic 1920 fedora hat, and the diamond crown which can be recognized by its kite like look and is a modern take on the classic fedora hat. You can also decide on fedora like hats like a vintage trilby hat which is a 1960s-style fedora hat or other types of fedora-like hats. If any of that interests you start shopping for our classic fedora hats today and elevate your hat game to the next level.