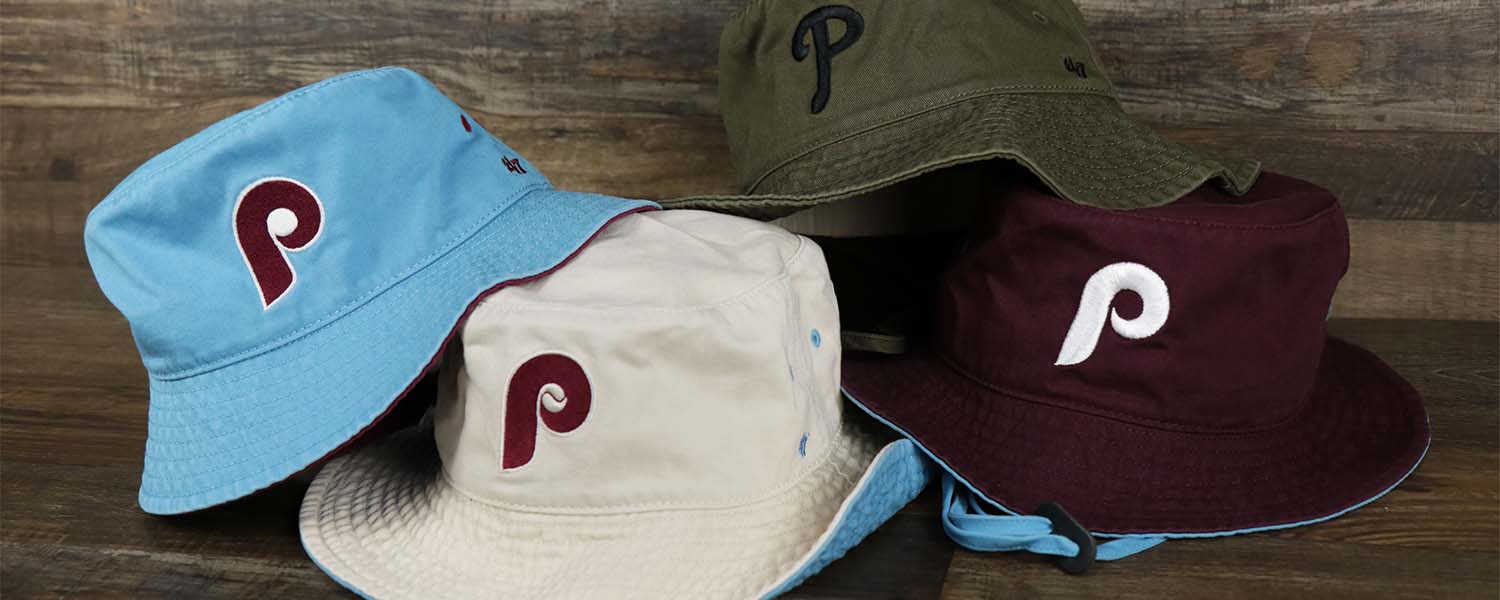 Cap Swag x 47 Brand Hats | Exclusive Capswag Bucket Hats | Retro Exclusive Boonie Hats
What are Exclusive Cap Swag Bucket Hats?
Exclusive Capswag Bucket Hats are exclusive bucket hats that are designed by us, Cap Swag. That means that these exclusive retro hats are only available in our retail stores or our online store Capswag.com. Our Exclusive Bucket Hats were designed thinking of the history of the teams past and present. That's why alongside the modern colorways and logos of our exclusive hats we have retro Cooperstown logos and throwback colorways of the same teams. So if you a fan of the modern teams or the old-school styles our exclusive bucket hats have a style for you.
What Retro Bucket Hats are part of Capswag x 47 Brand?
The Capswag x 47 Drop is a huge drop that features tons of Oldschool teams and colorways. The retro teams featured in this drop are the Cooperstown Philadelphia Phillies, the Throwback Philadelphia Eagles, and the Philadelphia Athletics. The Philadelphia Eagles and Philadelphia Phillies have their modern colorways and logos alongside their throwback colorways and logos. If you're a fan of Cooperstown Phillies or Throwback Eagles bucket hats then the Capswag Exclusive Retro Bucket Hats are for you
Does Capswag x 47 Brand have Hats with Retro Colorways?
Yes, the Cap Swag x 47 Brand Bucket Hats have vintage colorways. We designed our Cooperstown Philadelphia Phillies Bucket Hats with the Cooperstown colorway alongside the classic 80s Philadelphia Phillies Cooperstown Logo. The Cap Swag x 47 Brand Bucket hats also have throwback Philadelphia Eagles Bucket Hats along with the throwback 80s logo with retro colorways. The Capswag Exclusive Bucket Hats even have a team that's not around anymore, the Philadelphia Athletics. Our Exclusive Philadelphia Athletics Retro Bucket hat has the classic royal blue and yellow of the Philadelphia Athletics. We also have the modern colorway for all the teams included in our exclusive drop. So if you're a fan of the OG Philadelphia Teams then you'll love our Capswag Exclusive Retro Bucket Hats.
Will Capswag Restock these Exclusive Hats? 
There is no guarantee that our Exclusive Bucket Hats are going to restock. Though if Capswag exclusive items get popular enough it does have a higher chance of coming back. These throwback bucket hats were designed months in advance and produced months in advance so when our limited bucket hats do sell out they'll be sold out for a while. So if you want a Capswag Exclusive Bucket Hat go grab one while supplies still last and let us know your favorite item.