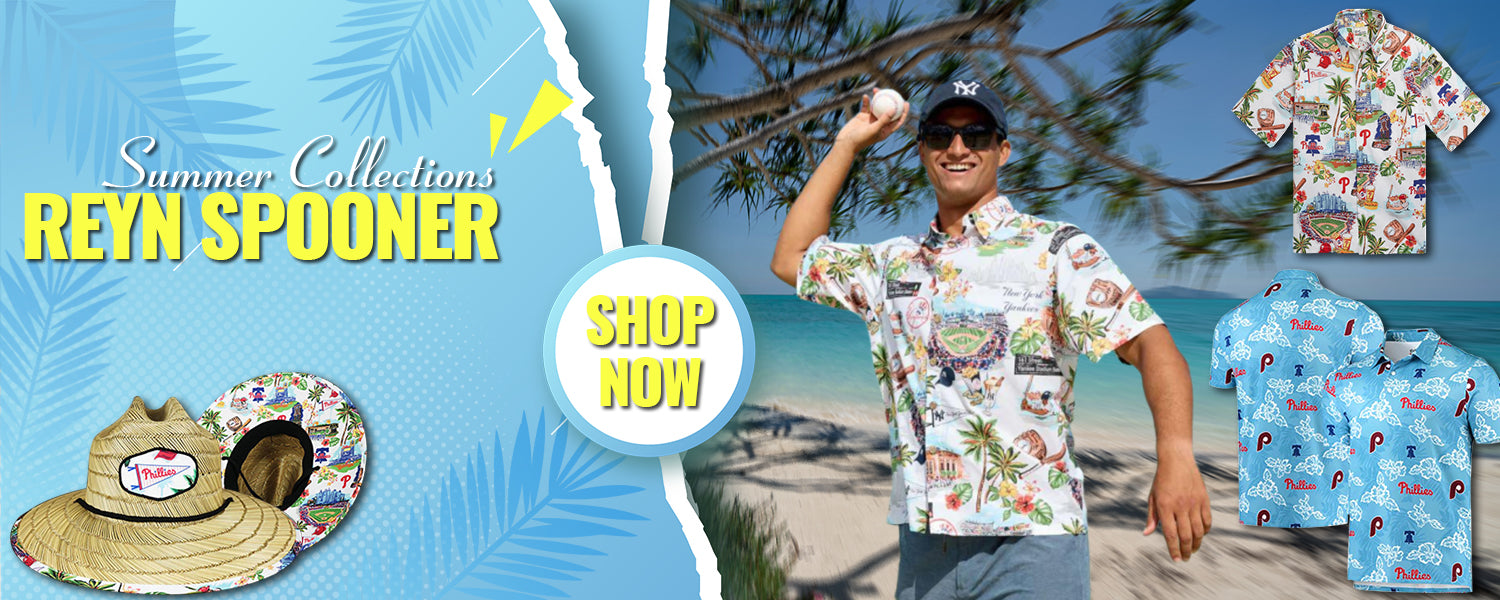 Reyn Spooner Collection | Authentic Hawaiian Vacation | Vintage Hawaiian Polos
What's so special about Reyn Spooner Products?
Reyn Spooner products have a guarantee of quality to them. The Reyn Spooner vintage aloha shirts started in Hawaii, 1961 and have never lost their quality along the way. Their vintage polo shirts are the reason for causal Friday. As their quality of cloth was so comfortable offices began allowing people to wear Reyn Spooner aloha shirts every Friday calling them aloha Friday and then that started casual Friday. Reyn Spooner aloha shirts aren't only comfortable, but fashionable too. The vintage aloha polo shirts are designed in Hawaii and hand-painted so that they are fashionable authentic Hawaiian shirts. Reyn Spooner polo shirts promise to sew aloha in every thread, making their shirts the best product they could be every time.
What Reyn Spooner products do we carry?
Currently, we carry the MLB Baseball vacation wear collection. The MLB vacation wear collection consists of the MLB vintage Aloha button-up shirts with custom wooden buttons, the MLB traditional performance Hawaiian print shirt, and the 100% straw MLB lifeguard hat. All of which are amazing summer wear and are official Hawaiian MLB merchandise. If you want an authentic Hawaiian shirt that is also officially licensed baseball merchandise then the Baseball vacation wear is the way to go.
Why buy a Reyn Spooner aloha shirts instead of other Hawaiian shirts?
When buying a Reyn Spooner aloha shirt you are guaranteed to get a high-quality long-lasting shirt. The Reyn Spooner products have hand-painted vintage Hawaiian patterns that capture the classic Hawaiian aesthetic of feeling great and looking great. The vintage Hawaiian aloha polo shirts have official MLB Hawaiian prints that look amazing with the classic Hawaiian patterns that are designed in Hawaii. Reyn Spooner aloha shirts are a must if you want an authentic aloha Hawaiian shirt.
What does it mean for an item to be an authentic aloha vintage shirt?
It means that an item is a genuine Hawaiian shirt. An authentic Hawaiian shirt includes hand-painted Hawaiian patterns that feature classic Hawaiian flowers and palm trees. A designer aloha shirt includes hand-printed patterns that are designed in Hawaii to give it an authentic Hawaiian look, and most importantly, an authentic designer aloha shirt includes high-quality materials that breathe well and are ultra-soft.