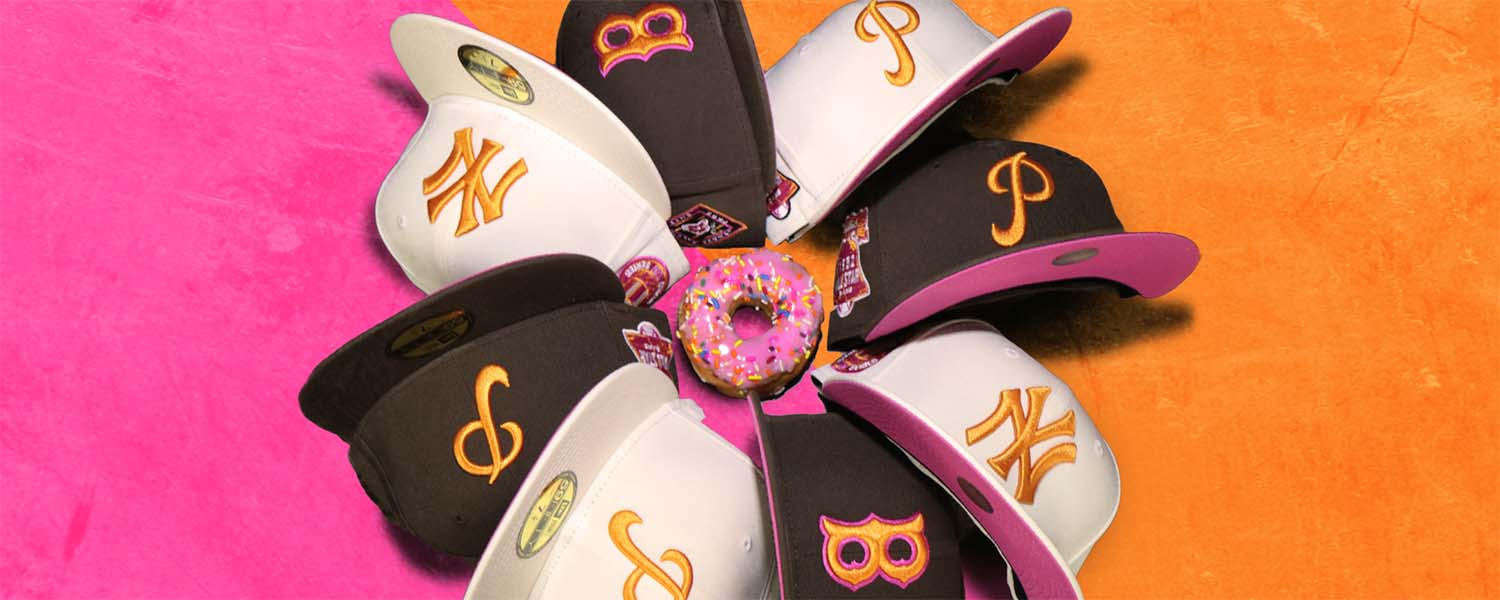 Cooperstown 59Fifty Donut Pack Side Patch Fitted Cap | Exclusive 5950 Patch Fitted Caps for the Donut Pack | Cooperstown Side Patch Exclusive Fitted Donut Pack Caps
Start your morning off right with a cup of Coffee and wear your matching Coffee Shop 5950 Cooperstown Fitted Cap!
Everyone loves their cup of joe in the morning and everyone loves our exclusive Coffee Shop 59Fifty Cooperstown Patch Fitted Cap. We have two Walnut Coffee Shop 59Fifty Side Patch Caps with the 1992 ASG Philadelphia Phillies Walnut 59Fifty and the Boston Red Sox 59Fifty Fitted Cap with 1946 All Star Game Fenway Park Side Patch. Though if you like your coffee a bit lighter then you'll love our Philadelphia Phillies Coffee Shop Side Patch Cream Fitted Cap and the Donut Pack New York Yankees 59Fifty MLB Cream Cap. So if you like your coffee dark or prefer a little cream our Exclusive 59Fifty Patch Fitted Caps can match you every morning. More details about Capswag x New Era Exclusive Coffee Shop 59Fifty Fitted Caps are down below.
What's Unique about the Side Patch Fitted Caps from the Donut Pack?
The 59Fifty Fitted Caps from the Coffee Shop pack are stuffed to the brim with special features. Such as the colorway for the 59Fifty Side Patch Coffee Shop Caps which feature Magenta and Orange alongside the main color and feature a Magenta Undervisor. Not only that but the Coffee Shop Side Patch Fitted Caps with magenta bottoms feature retro side patches with a unique colorway. Our Retro Side Patch 59Fifty Donut Pack Caps also feature the old school MLB Batterman Logo embroidered on the back with our unique colors. These Donut Shop Fitted Caps are a Capswag exclusive with New Era so you won't find out Donut Shop Caps anywhere else!
What teams are in the 59Fifty Donut Shop Side Patch Caps?
The Donut Pack only features MBL teams that are local to Capswag which would be the Philadelphia Phillies, New York Yankees, and Boston Red Sox. The Cream New York Yankees Donut Shop MLB Cooperstown Patch Fitted Cap and Walnut Coffee Shop MLB Boston Red Sox Patch 59Fifty Cap come in one color while the Fitted Philadelphia Phillies Retro Side Patch Cap comes in cream and walnut. If that interests you then go and grab one of our exclusive 59Fifty Cooperstown Patch Fitted Caps before supplies run out.